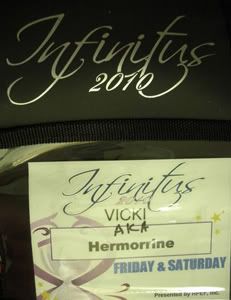 Got up in time to make the 8:45 am shuttle over to Universal Citywalk (there were only two shuttles per day - 8:45 am and 8:45 pm. Gah). Thank everything there was a Starbucks at Citywalk, which I happily stopped at every morning. I then took the water taxi over to the Royal Pacific hotel where Infinitus was being held. Once there, I registered and tried to find the Public Relations folks so I could get to 'work.' I finally found A (PR Director) and she introduced me to R, our other partner in PR crime. R is from Ireland and an awesome guy, and I was amused as I spent the next 3 days periodically having to translate his accent for people. We all ran around checking in press and media folks - CNN, FOX, other local TV, newspapers, magazines, and lots of websites. It wasn't difficult or anything - just needed to get them their badges, a copy of the rules and the program and a basic explanation of things, plus telling them to contact one of us if they needed anything. We also gave some of them tours if they wanted, but most preferred to just wander and check it out for themselves.
Had some lunch (and a bit of dessert courtesy of the Opening Feast), then had to head over to where I was to present on Mixtape Culture and Harry Potter with
heidi8
. Waited for a bit, but H didn't show up, so I got started. H came in about 10 minutes later and said that there was a big issue and she couldn't stay. I was a bit shocked but I did my best to recover and make it a good session. Not sure I succeeded but at least no one threw rotten fruit.
I went back to the PR desk we'd set up and checked in more PR people, then closed up for the night. I had a phone interview then, which went okay but as I haven't heard anything more, I don't think it's going anywhere. Then
stormwynd
and I went to the Hard Rock Cafe at Citywalk for dinner, which was very yummy, and then he headed back to the Royal Pacific and I made the 8:45 pm shuttle back to my hotel. My knee was not happy that night, so I took a shower, iced my knee and tried to sleep.
Morning went the same as before - shuttle, Starbucks, water taxi, PR duties. Tried to help get a computer set up for posting Twitter updates on the wall, but I don't think that ever worked as we wanted it to. At some point, I got a 10-minute neck and shoulder massage, which was heavenly. I also managed to get to one session - John Granger's on JKR's use of particular dates in British history. Not sure I necessarily agree with his reasoning, but that's part of why I love this stuff - I just love digging into the details with other people who love this stuff, too. Eventually, we closed up shop again and a bunch of us headed to the sushi bar in the hotel, where we had some much-needed cocktails and food (what was great is that if you didn't want sushi, they'd get food from the other restaurant for you, and about half of the group didn't).
After we ate, we headed over to Universal and then went to the theatre where they were having us all gather before letting us into the Wizarding World of Harry Potter. The theatre bit was... lame. Apparently it wasn't what they'd originally intended, but one of the people who was supposed to talk couldn't make it at the last minute. So we had a woman from Marketing who talked a bit and then had us watch a bunch of promo stuff on the park - including the NBC special in FULL, which I'm pretty sure the majority of the people there had seen - I know I had. We were all getting horribly restless, and then one of the guys who produced the park came out to answer questions. One of the first questions they hit him with was why the main ride of the park was so size-restrictive, and he gave a total cop-out answer about safety and other bullshite. Finally, we got to go to the park!
Apologies in advance for my crappy photos - did the best I could
.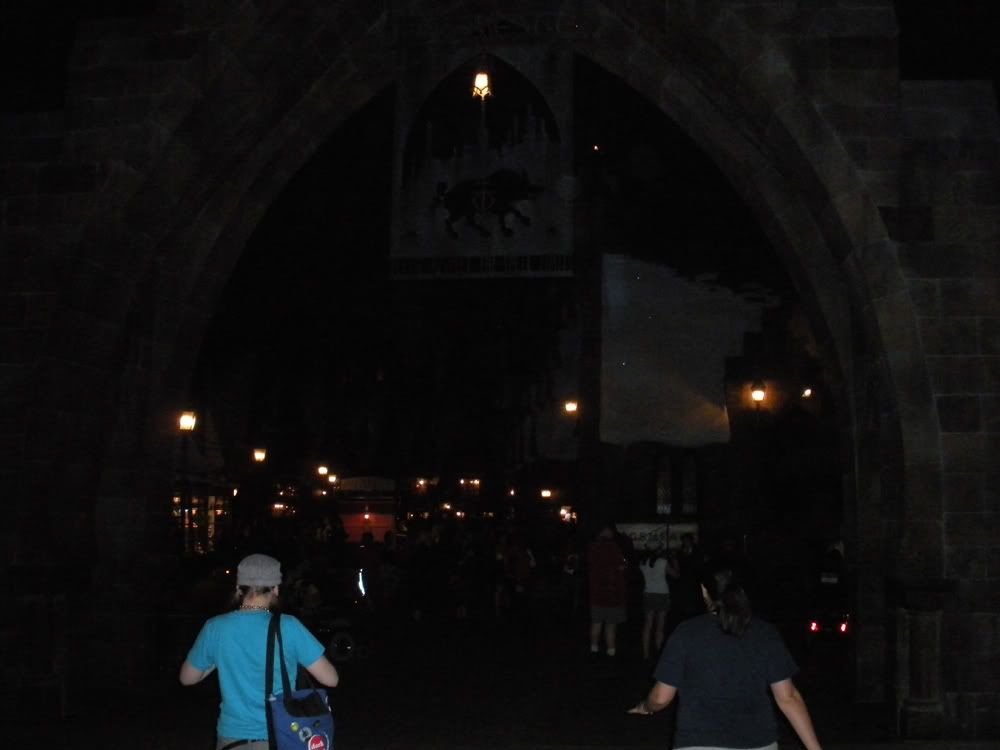 Entrance to WWoHP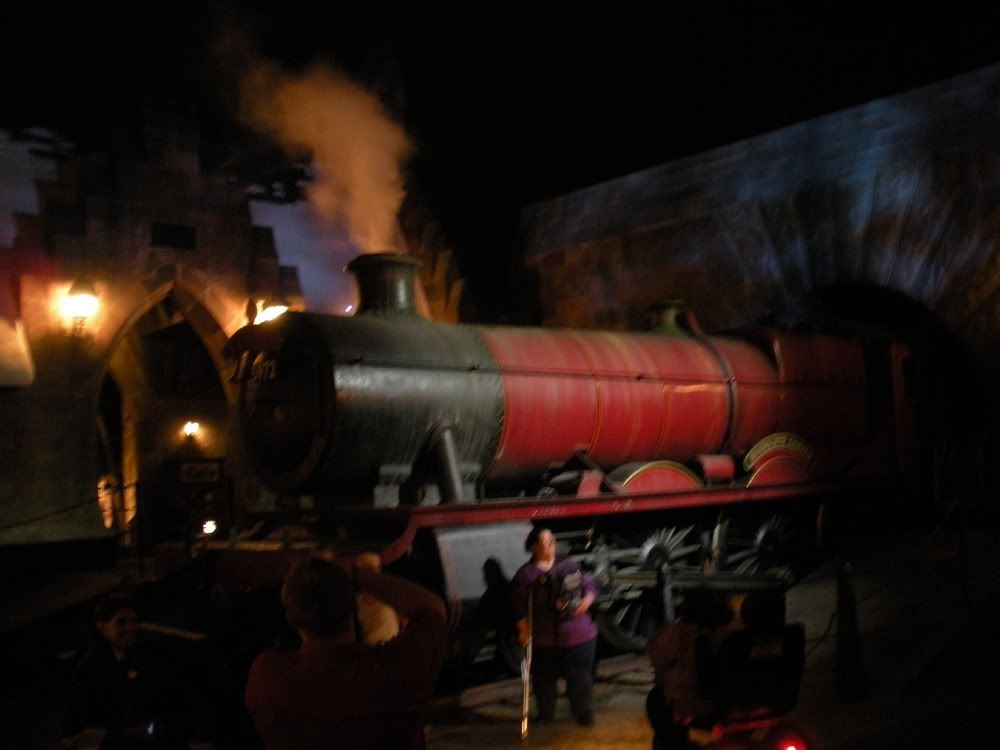 The Hogwarts Express!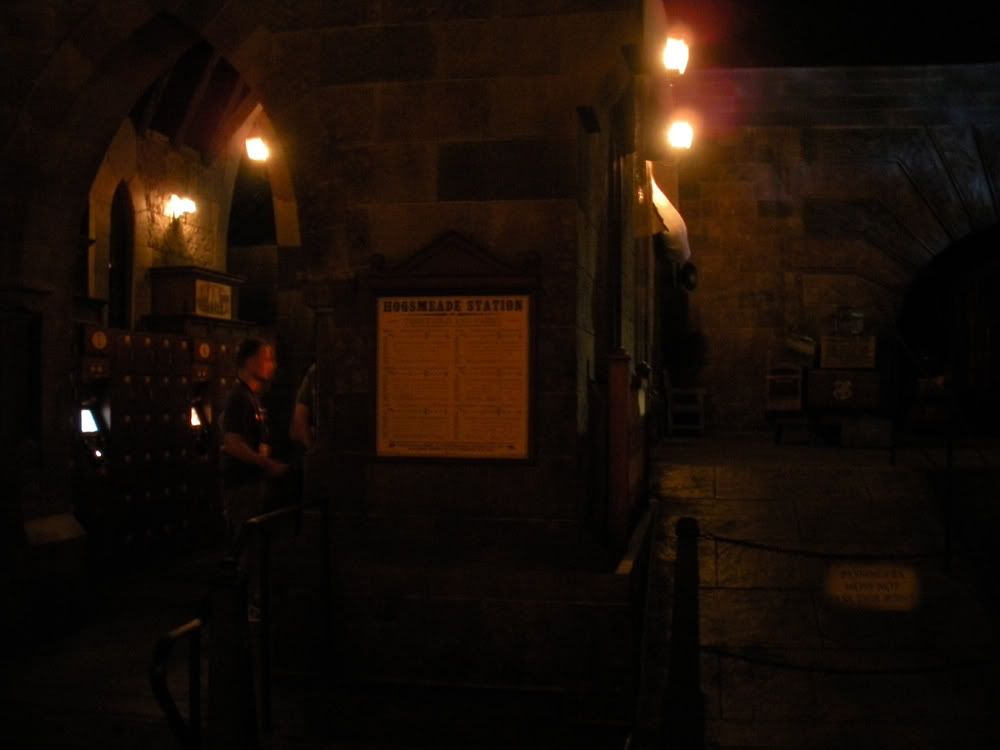 Hogsmeade Station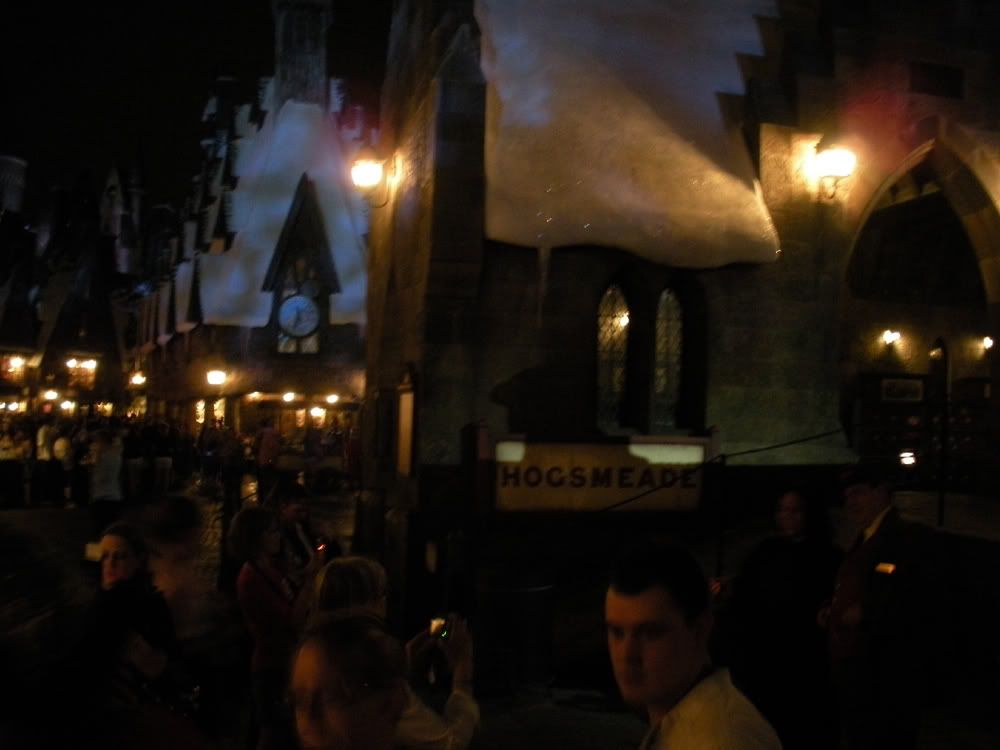 Down the street
More of the buildings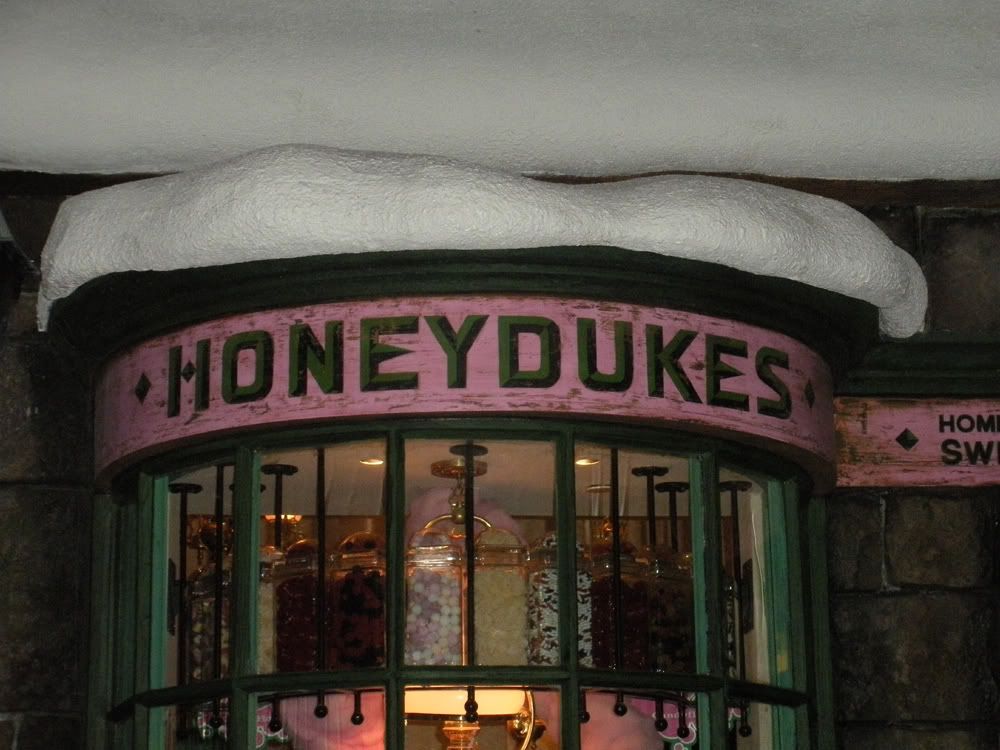 :)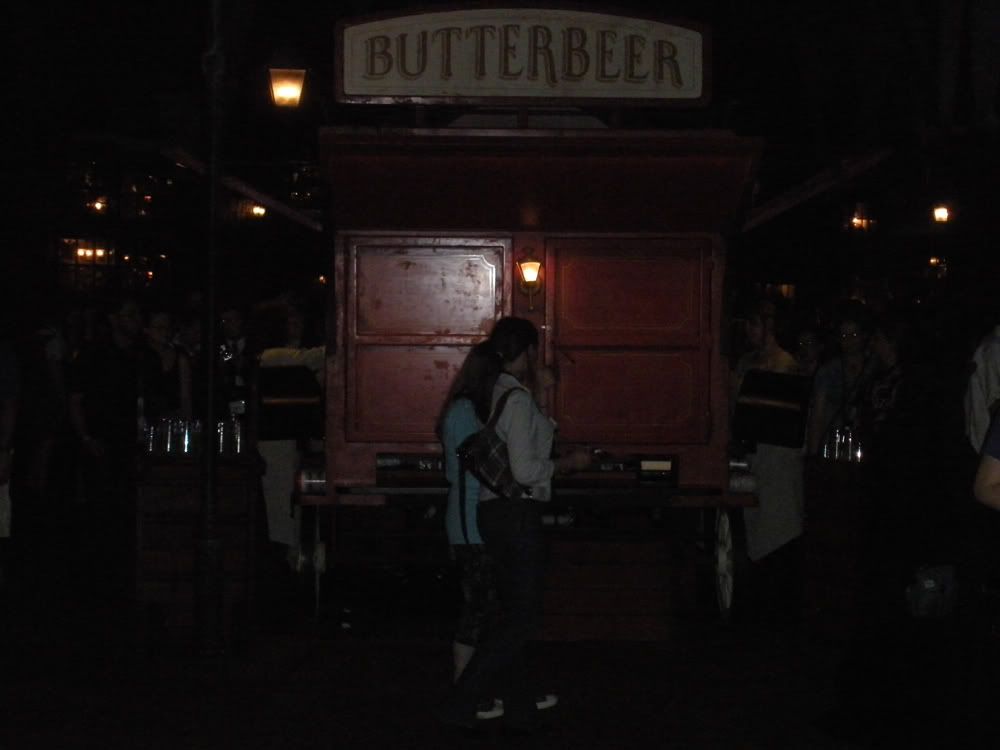 Okay, Butterbeer is SO GOOD. You can get it frozen or not (I got frozen), and it really tastes like butterscotch but better. Highly recommended!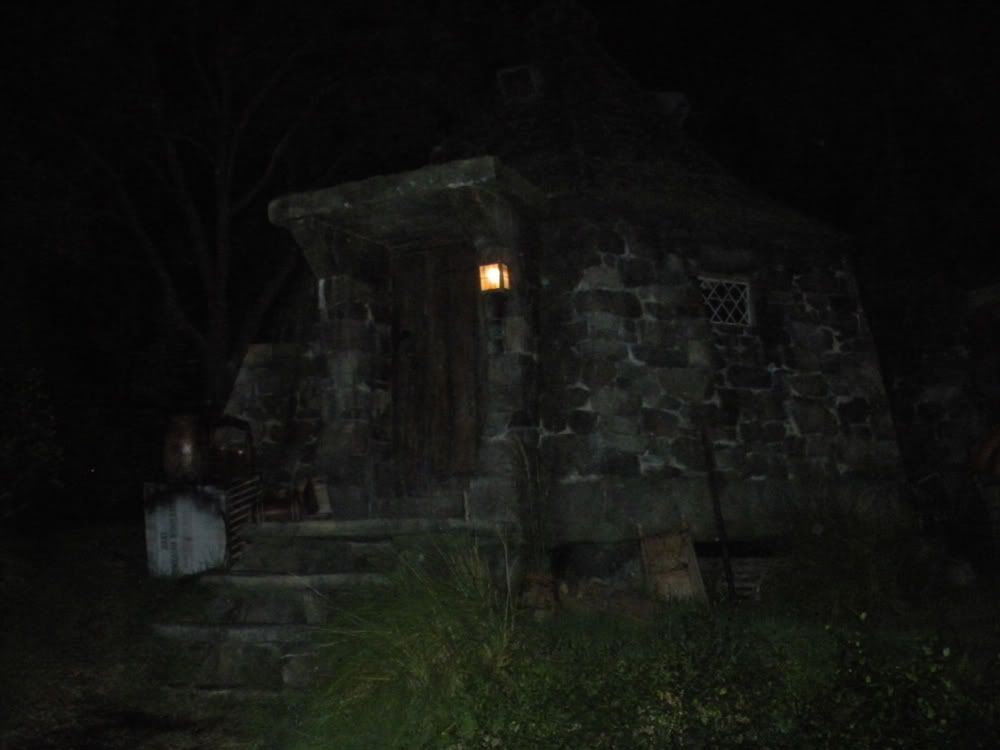 Hagrid's Hut, which is seen from the line of the Flight of the Hippogryff ride. The ride is just a little rollercoaster (similar to Thunder Mountain Railroad at Disney), but the best part is that you get an incredible view of the castle when you go up the track.
All of the following are from the Hogwarts Castle, aka Harry Potter and the Forbidden Journey. These are the things you see as you walk through the line to get to the ride. I took as many pics as I could, but I know I missed a LOT. It's incredibly detailed. I wish my photos were better, but... a photographer I am not! I'm also probably going to get things out of order. I only went on the ride once and even though we took our time to an extent, we probably could've stayed in there for an hour just going OOOOOOOOHHHH at everything.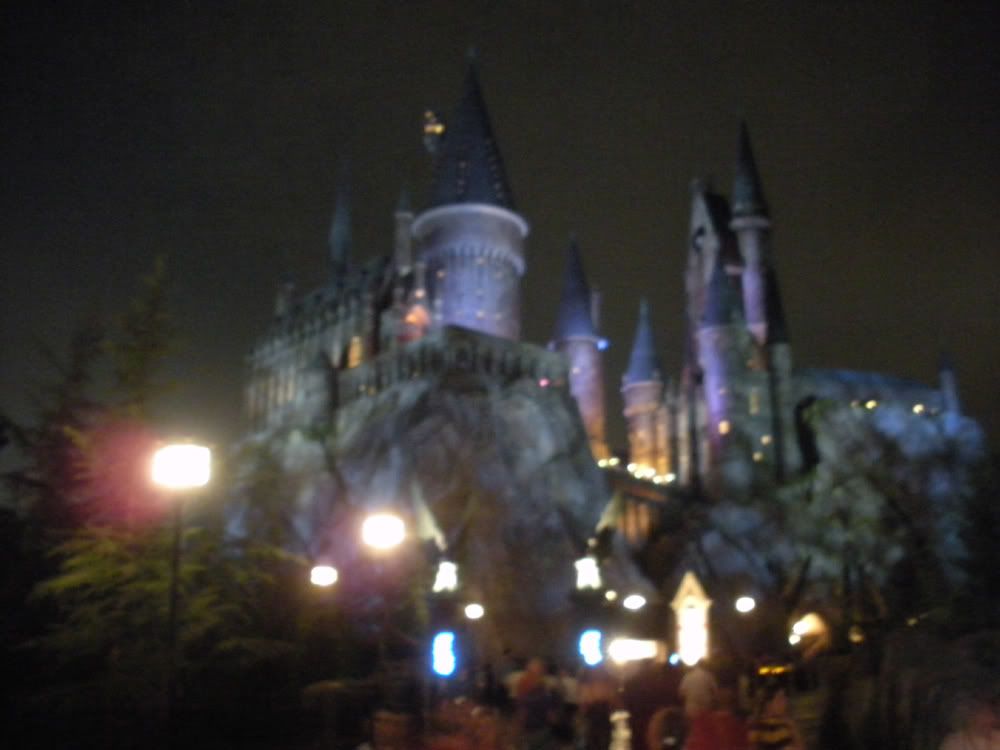 Hogwarts. I admit I teared up a little. And I really wish I'd managed to get better pics of it, but this was the best - the others are just darkness.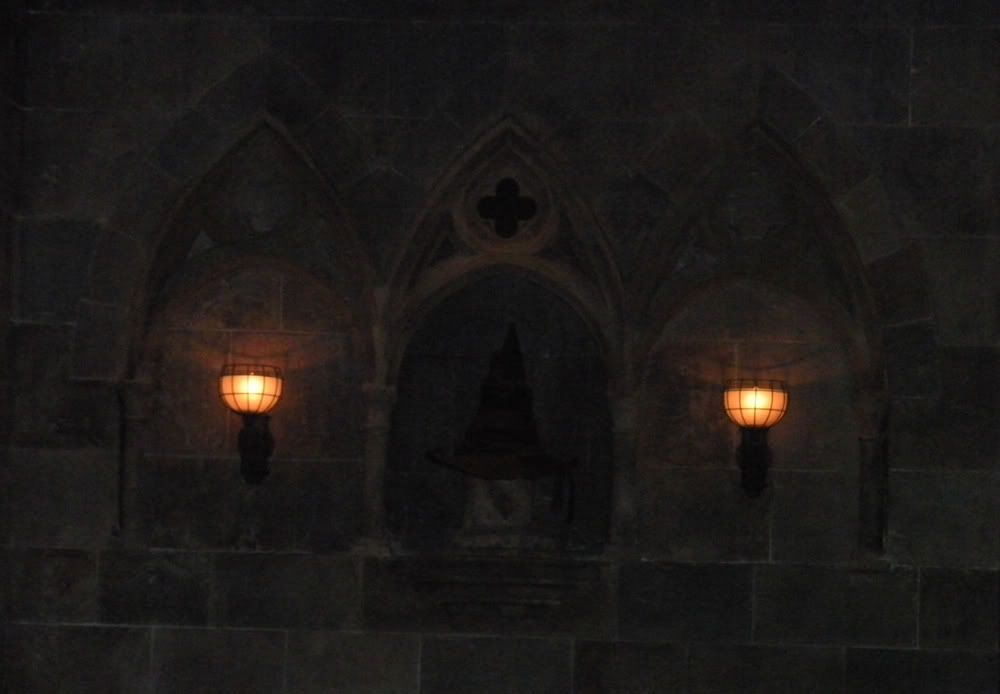 The Sorting Hat - and yes, it does move and talk!
House points!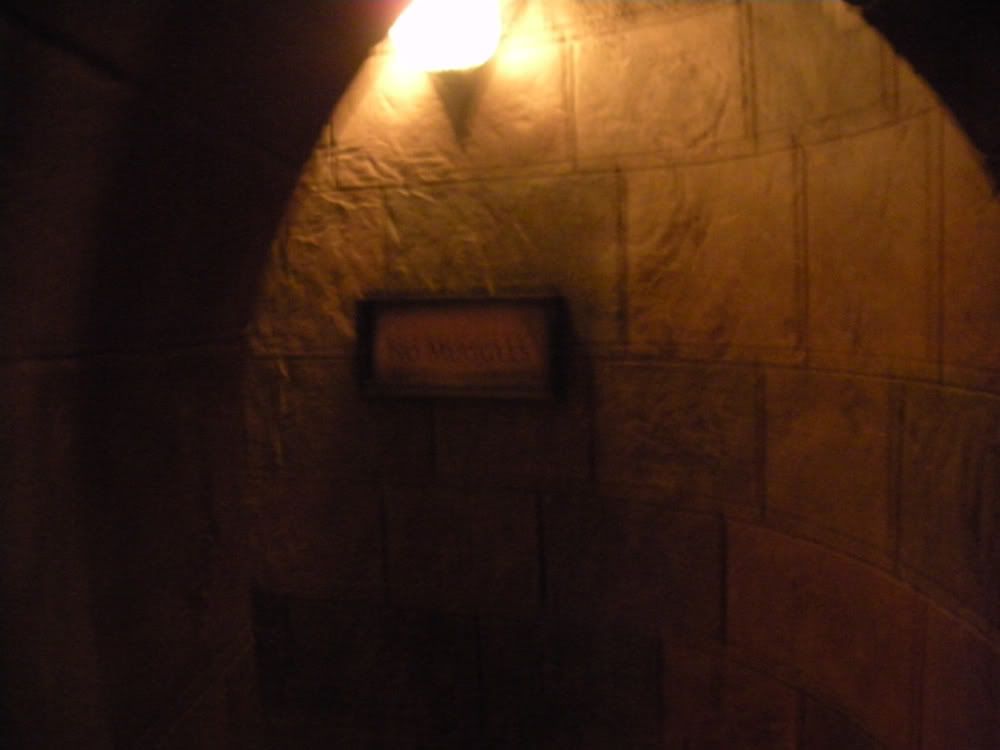 I don't think this is very clear, but it's a sign saying 'No Muggles' which of course made me giggle.
Heading to Dumbledore's office.
Dumbledore's Office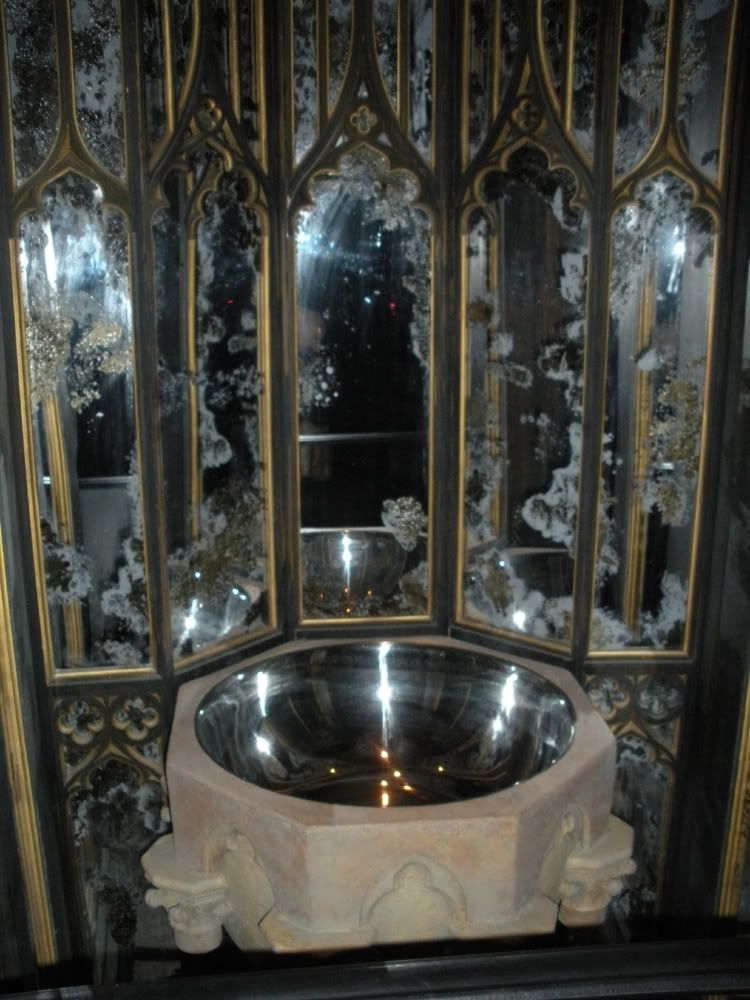 Dumbledore's Pensieve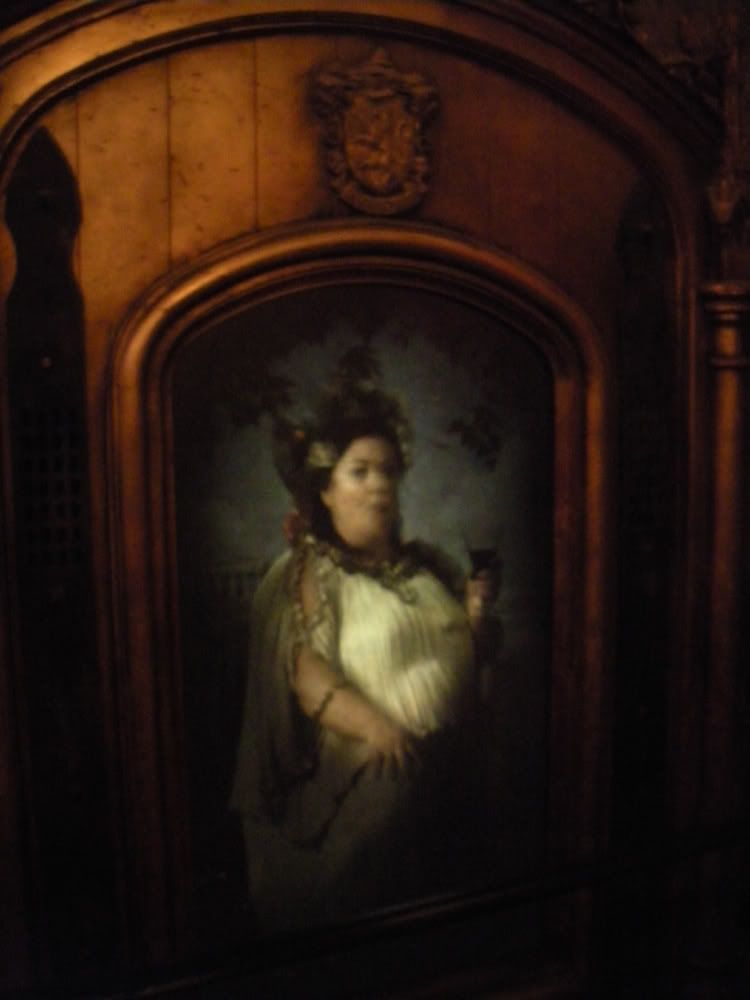 The Fat Lady, leading to the Gryffindor common room. The portraits DID move and speak - and when they didn't, they looked just like normal portraits! Totally amazing.
Defence Against the Dark Arts Classroom
More Defence Against the Dark Arts Classroom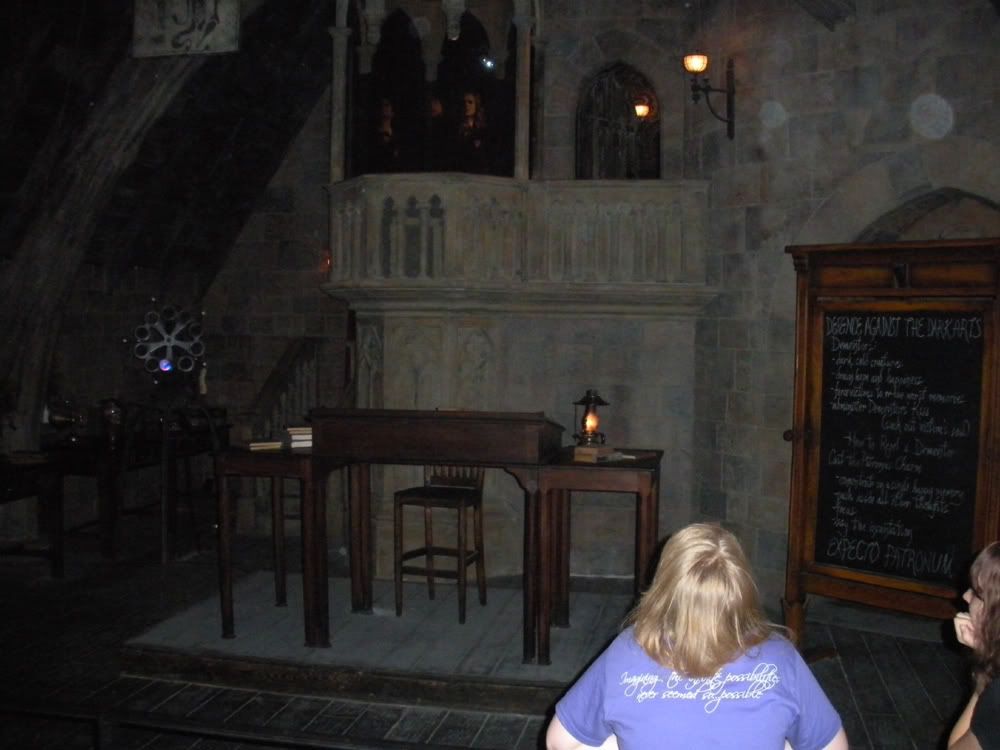 More Defence Against the Dark Arts Classroom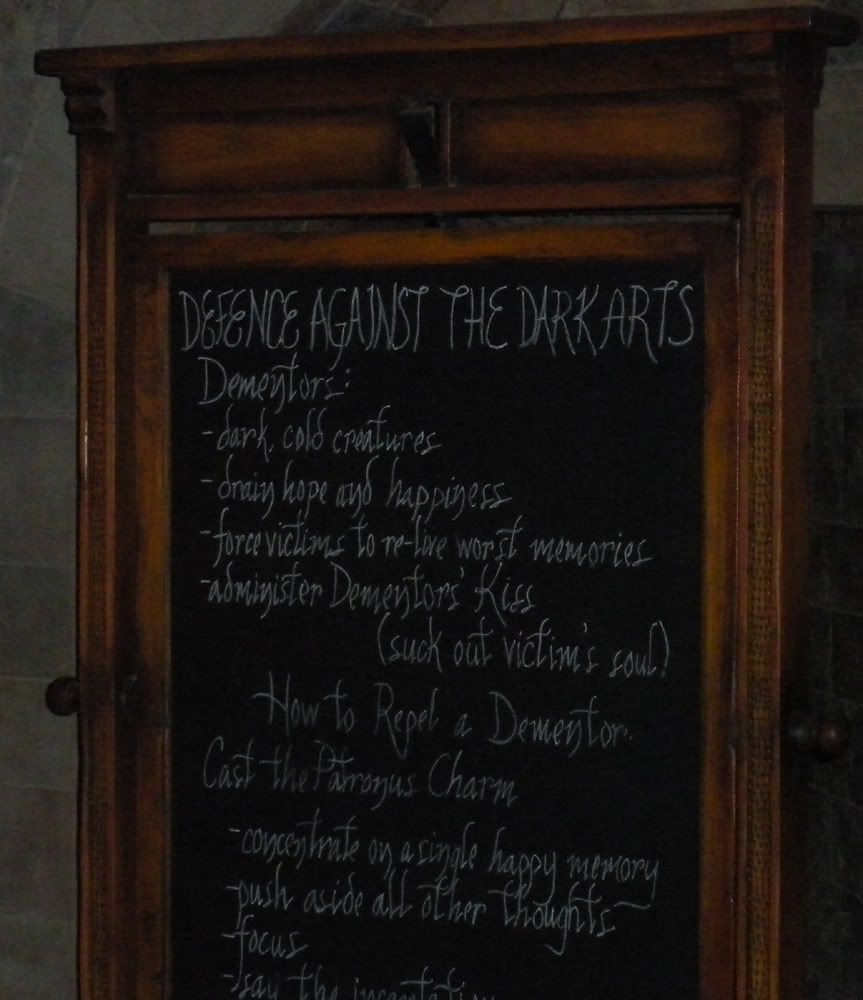 Defence Against the Dark Arts Blackboard
One note about the DADA classroom - you have to stay in there long enough. Eventually, Ron tries a spell and messes it up... and makes it SNOW on you! So cool!
I was a little afraid that I wouldn't fit in the ride - especially after spending years not fitting in rides - but they have 'test' seats outside the ride and just before you get on the ride itself, so I tried - and no problem at all. I did feel badly for people that couldn't fit, though. The good thing is that you can go through the entire castle and not ride the ride, so you can still see all the cool stuff. The ride IS really awesome, very well done and I totally enjoyed it even if it stopped twice while we were on it. It would've been nice to go on again, but it just didn't happen.
We ended up looking in a couple of shops, but even with only 1000 people there, they were incredibly crowded. I didn't get all the things I'd wanted, and didn't see all the shops. Apparently the line for Ollivander's was 2 hours! Obviously, I'm going to have to go back during the off-season at some point, so I can check out everything else. I also tried Pumpkin Juice - you can buy it in bottles, so I bought one to go - and Treacle fudge. The Pumpkin Juice was a HUGE disappointment for one reason - they put some kind of fake sweetener in it. :/ I was really confused, because the bottle doesn't indicate that there's anything fake in it - doesn't say it's 'diet' or whatever, and it ISN'T - but when I tasted it, I was like... something isn't right. I'm really sensitive to any kind of fake sweetener, and so I looked at the label and there it was. I have NO idea why they put it in there - it's not meant to be a diet drink and it has something like 100 calories per serving... so I just don't get it. I couldn't finish the bottle, it was just too nasty. It was a shame, because the flavor itself was really nice - good pumpkin flavor with a bit of spice. The Treacle fudge was really good - I don't know how to describe it, but it's good and has sultanas in it. :)
I think we finally left sometime after 2 am, and I managed to get a cab back to my hotel, go upstairs, take a quick shower and ice my knee again before collapsing for a few hours.
I somehow managed to get up and get going and make the 8:45 am shuttle again. I'd just gotten to Citywalk when A texted me, saying she had a migraine and was puking and there was no way she could come down and handle PR stuff for who knows how long, and could I help R cover for her? I texted back sure, that I was on my way. Made my Starbucks stop and then took the water taxi to the hotel.
It was definitely the day of chaos. I was running the HPEF Twitter account, updating things as changes happened, handling some questions via Twitter, and being available to help however needed in addition to checking in media folks (most were already there, but we had a few on Saturday). It was a lot crazier than anticipated, but I managed.
I was able to go to the keynote on Saturday (keeping up my 'one thing of formal programming per day'), and it was really cool - it was two guys from EA games talking about the evolution of the Harry Potter video games. The only thing that sucked was that we were next door to the Chase Bank check presentation to the Harry Potter Alliance (which I think is AWESOME, don't get me wrong), so people kept screaming and cheering in there and half the time, we couldn't hear the EA guys. But it was still really interesting. Then I headed back to 'work' for a while.
I'd wanted to get to
kitsune13
's presentation in particular, but the best I managed was to open the door and look in for a second. :( I did manage to meet Chris Rankin (Percy Weasley) and Christian Coulson (Tom Riddle) and get their autographs, which was cool. They were both very nice.
Then, my mom and her husband arrived to pick me up at about 5:30, so I ran around hugging people goodbye. :( It had always been the plan that I'd be gone once they arrived on Saturday, but it was harder to leave than I thought it would be. It was so great to see all these people I hadn't seen in years and meet other people and just feel like I
belonged
. I'm so very grateful to everyone who was there for helping to make it such a great experience, even if very little went as planned! LOL I'd like to list everyone, but I know I'd probably forget a bunch of names... plus, I don't think everyone has LJs. Hopefully we'll all find each other on Twitter and Facebook, though. ♥
I feel:
rejuvenated